St Aloysuis' College unveil £5m Garnethill sports facility
September 11 2017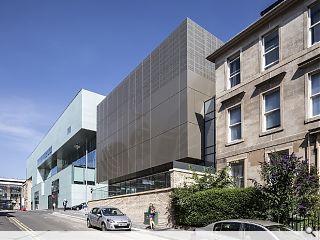 St Aloysuis' College boasts a £5m addition to its Garnethill campus ahead of the new school term with completion of a
custom-built sports facility
adjacent to the newly completed
Reid Building
at the Glasgow School of Art.
Located within the Glasgow Central Conservation Area the project entailed requisition of a car park and playground space to form a 2,450sq/m multi-purpose sports hall, gym and dance studio.
The steeply sloping site presented challenges for Mosaic Architecture + Design, who have built a cantilevered steel stair fronting Dalhousie Street and double-sided lift access to all levels to allow barrier free access.
Stephen Mallon, Director of Mosaic, explained: "The challenge was to provide this accommodation in a contemporary way which respected the adjacent streetscape, given that most of the accommodation, by its nature, should not have low level windows.
"The solution was to place the volume of the sports hall at first floor level, over a street level ground floor using the gym and dance studio to provide glazed frontage. The mass of the sports hall has been visually separated from the adjacent tenement by the introduction of a shadow gap and cantilevered, emphasising its form, both at Renfrew Street and over the Dalhousie Street entrance."
The result is a distinctive bonze aluminium build embossed with the College's eagle crest.
The volume of the sports hall is accentuated by a 'shadow gap' entrance
Back to September 2017