£1.3m Belleisle visitor hub breaks ground
September 7 2017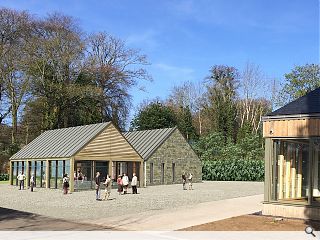 South Ayrshire Council has begun delivery of a £1.3m visitor centre to be carved out of a derelict stable block on
"Ayr's Belleisle Estate
.
Initial works will see stone reclaimed from the current buildings for later re-use to provide a visual transition from the historic Belleisle House and golf course.
Once complete the new facility will incorporate a community space, café, park ranger facilities and toilets, catering for an expected 200,000 visitors per year drawn by a wider three-year investment programme for the park.
Councillor Peter Henderson, South Ayrshire Council's portfolio holder for resources and performance, commented: "With progress already seen with the refurbishment of the conservatory, the creation of the new Golf Clubhouse, and the wider improvements to paths and landscaping, the next stage will see a fantastic new visitor hub created that will maintain the momentum.
"By creating an environment that responds to the needs of our communities and visitors alike we aim to attract even more people to enjoy the estate in future. I look forward to the main construction stage getting underway next year, when the old stable block will be reborn for the next generation."
Designed in-house by the council based on initial concept designs by Robert Potter & Partners the centre is expected to begin construction in March 2018.
Back to September 2017