Mid-market Barlanark homes race ahead
September 7 2017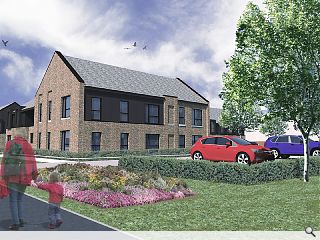 CCG have moved to the delivery phase of 43 timber built homes for mid-market rent at Burnmouth Road, Barlanark, on behalf of the Wheatley Group.
Consisting of eight separate blocks close to Garrowhill Station in the east end of Glasgow the project will take advantage of CCG's closed panel timber system which allows the properties to be manufactured off-site complete with pre-installed insulation, services, windows and doors.
Tom Barclay, group director of property and development for the Wheatley Group said: "Our mid-market programme is an important part of our growth strategy and will provide affordable homes across Scotland. We're delighted to see the homes at Barlanark in Glasgow taking shape and look forward to the completion of this and the two other projects being delivered for us by CCG."
Designed by Mast Architects the development consists of 26 cottage flats and 17 houses will be finished predominantly in brick with extended cavities, framing details and deep reveals utilized to provide interest.
Garrowhill recently benefitted from
completion of a new primary school.
Back to September 2017