Edinburgh Airport expansion waiting in the wings
August 24 2017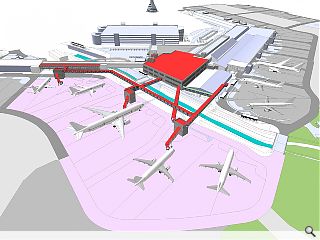 Edinburgh Airport has named BAM Construction as lead contractor for its Terminal Expansion Project, which will usher in a range of new domestic and international arrival facilities.
This will include expanded baggage reclaim and border control facilities, shops, cafes, a new lounge space and office accommodation together with new link bridges and stairs to open up access to larger aircraft stands and an additional south east pier.
Work has already begun on an £80m three storey terminal extension is included in phase one of this work which will see an additional 14,350sq/m of accommodation offered by autumn 2018.
Edinburgh Airport chief executive Gordon Dewar commented: "We are Scotland's busiest airport and the fastest growing airport in the UK – and that demand is only going to grow with the record numbers of passengers we expect to see passing through the terminal."
Occupying a disused service yard sandwiched between the airport and Gogar Burn the development forms part of a £220m capital programme for the next five years.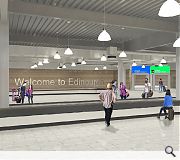 An expanded baggage reclaim area is included in the plans
Back to August 2017