Napier University brings forward office to student housing bid
August 25 2017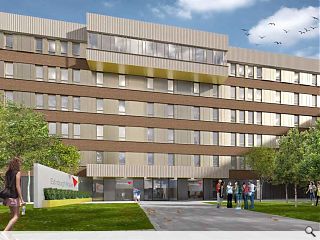 Edinburgh's Napier University is bidding to transform a
defunct 1970's office block
off Robb's Loan to form 337 student bedrooms and associated amenities.
The move will see CDA reconfigure the H-plan Pentland House through removal and replacement of access cores to offer more efficient circulation while making the property more suitable for standard residential use in future if required.
Externally it is proposed to remove bands of horizontal windows and brick panels to be replaced by aluminium cladding and all new double glazing, while retaining as much of the existing façade as possible.
Explaining their approach the architects stated: "The existing building has a very clear modern language with a select palette of materials – two tones of brick, ribbed concrete panels with a horizontal ribbon of aluminium framed glazing with projecting brick infill panels. It is our intention to remove the horizontal band of windows and intermediate brick panels and replace with high quality aluminium clad double glazed windows, designed to reflect the layouts within with modern aluminium cladding panels between windows."
A car park to the front of the building will also be re-landscaped to offer a softer pedestrian entrance, incorporating formally landscaped courtyards.
A ribbon of tarmac will be ripped up to soften the buildings frontages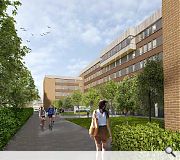 Low floor to ceiling heights of 3m make Pentland House no longer suitable for office use
Back to August 2017