'Inside-outside' Falkirk home holds court
June 29 2017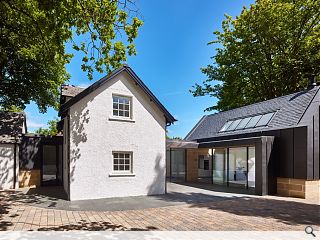 Linlithgow-based :thatstudio have unveiled an 'inside outside' three-bedroom home within the Dollar park conservation areas of Falkirk.
Arnothill takes the form of a repurposed stables and coach house which have been joined by contemporary living room extension, each of which is arranged around a courtyard space that is directly connected to the interior environment via sliding glazed doors and continuous flooring. Each element is connected by a single-storey link to allow the cluster of buildings to function as a single home
A cantilevered roof partially extends over the courtyard to offer shelter during inclement weather with high quality materials such as ashlar stone, zinc, aluminium framed glazing and slate used throughout.
Outlining their approach the architects said: "Each of the existing buildings are retained and conserved with a strategy of like-for-like repair implemented, including but not limited to re-use of existing slate, render repairs in traditional wet-dash, replacement matching timber windows and renewal of rainwater goods all in cast iron. The new elements are distinctly modern and of their time, providing a visual contrast which accentuates the conserved elements while not compromising their charm or disguising their original function.
"Each pavilion is set away from the next to allow each to retain its own setting and complements the courtyard landscape strategy created by the existing buildings. The new elements are constructed as free facade framed structures, a mixture of steel, timber, glass and stone. This allows large volumes and open plan spaces consistent with contemporary living aspirations, whilst the smaller cellular existing buildings lend themselves easily to more intimate spaces such as bedrooms and a study area with little intervention. Taken as a whole, we hope this creates an interesting chronology of evolution across the site, enhancing the richness of its character and retaining the heart of a small but important piece of history."
David Narro Associates served as structural engineer with photography by Andrew Lee.
Back to June 2017