FM Group begin work to restore Dalnair Castle
June 28 2017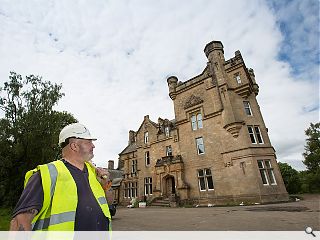 A decaying castle in Stirling is being brought back to life by FM Group who have begun the process of sympathetically remodeling the historic home to form 10 flats.
Working to designs prepared by McInnes Gardner this work will entail removal of dry rot from within the building, installation of new floors throughout and repairs to the current roof and stonework.
In their design statement the architects wrote: "The proposed layouts for the flats are arranged within the existing structure and utilising existing bay windows and hallways to ensure as much as possible of the original structural fabric is maintained.
"Most of the interior panelling and feature plasterwork has already been lost, but where significant features remain (fireplaces and grand staircase) these will be restored to original condition and integrated into the proposals."
A further 22 homes will also be built within the castle grounds with residents benefitting from gated gardens, a tennis court and meandering walks.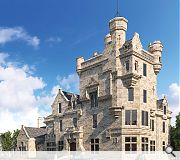 Repairs will be carried out using original materials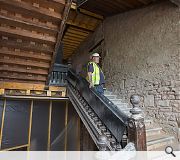 The grand staircase has survived years of neglect
Back to June 2017