Burrell architect urges rethink on £66m refurbishment
June 1 2017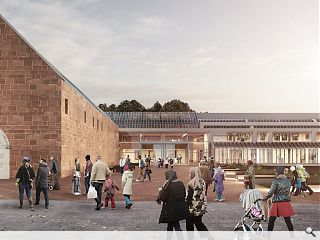 John Meunier, one of the architects behind Glasgow's
A-listed Burrell Museum
now emeritus professor of architecture at Arizona State University, has issued an 11th hour plea to John McAslan & Partners to re-think their plans despite approval already having been granted by Glasgow City Council.
The £66m project has been necessitated to carry out urgent repairs to the ailing 1983 structure which has been hit by extensive water ingress through the roof, presenting an opportunity to greatly increase the display space on offer as part of these works, allowing 90 per cent of the 9,000 objects to go on display – four times the number which can be put on show currently.
To achieve this however McAslan proposes significant alterations to the building fabric, principally the main entrance and Hutton Rooms, sparking fears that the buildings status as a 2oth century landmark could be imperiled.
In a letter to the architects Meurnier wrote: "The issue for me is the long term and whether it retains its status as one of the best 20th century works of architecture in Scotland, superbly matching the architecture to the works of art, while continuing to honour the intentions of its progenitor (William Burrell).
"For it to do that a lot more has to be retained, including the extended entry sequence of graduated spaces, and the programmatic requirement of the will that the restored Hutton Rooms be retained.
"There is obviously a lot more to discuss, including the careful insertion of elevators as all three levels come into play, but my main message is to mess around with the basic, experience, logic and composition of the original building as little as possible, and to exercise architectural creativity to meet your new goals in a way that sustains the material and formal language of the original."
McAslan & Partners have rebuffed the approach however, stating that the changes are 'required' to arrest a decline in visitor numbers. Paddy Pugh, director of conservation and planning at architects McAslan, responded: "Beyond repairing/replacing the roofs, facades and building services, the principle architectural changes are designed to improve access into and around the building."
Back to June 2017