Moxon draw up plans for custom Crathie HQ
May 31 2017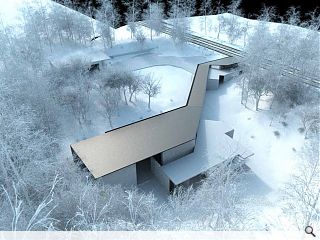 Moxon Architects have filed plans for a new
practice headquarters in Crathie, Aberdeenshire
, giving the team room to expand from their
temporary home in a converted steading
.
Pencilled in for delivery in 2018 Quarry Studios has been conceived to minimise its impact on the surrounding landscape and ecology while realizing an 'ambitious' architectural vision for the site – a former gravel quarry.
Nestled within the sweeping bowl of the quarry the proposed office building prioritises insulation, high performance windows and maximum solar gain in order to create a 'climate proof' building extending through private and public halves.
Outlining the concept Moxon wrote: "Two low-lying buildings sit at either side of a visual barrier created by the landscape and existing trees. The purpose of splitting the office premises into two components is a reflection of an architect's twin roles: focussed design work and broad collaboration.
"The most privately positioned building houses the office premises for the practice - containing a studio, meeting rooms, offices and back-of house facilities, all hidden from view and sheltered from any noise – a peaceful and concentrated area to work.
"Conversely, the road-facing building is designed to house social areas for the practice including a small kitchen and staff dining area, as well as a lounge that can equally function as an additional informal meeting area to welcome guests and clients.
"The two buildings are connected by a semi-externalised cloister which allows circulation between the buildings in any weather."
Formed under a profiled metal roof with square profile larch boards, glass and concrete the office would allow expansion of Moxon's Crathie office from six staff at present to comfortably accommodate as many as 15.
Back to May 2017