Decision on proposed Aberdeen FC stadium deferred till October
May 24 2017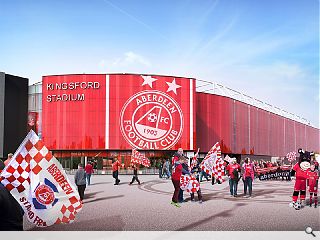 Aberdeen City Council is expected to defer a decision on whether grant approval to
Aberdeen Football Club's Kingsford Stadium plans
until October in order to meet requests for additional supporting information.
This include additional environmental surveys for the £50m sports hub although the club remain confident that the project remains deliverable in time for the 2020/21 season.
As part of this process the club has also published fresh visualisations of the Dons new home, which is expected to be delivered in two phases with community and sports facilities preceding delivery of the stadium itself.
George Yule, executive vice chairman of Aberdeen Football Club, said: "Although this is later than we had hoped, we are confident that, if planning permission is granted in October, we will still meet the original target timescales of completing the community sports campus and football training academy in 2018 and the new stadium for the 2020/21 season."
The latest iteration of the design features a 'softened' external façade following feedback from planners.
Back to May 2017