Perth Porsche proposal progresses
May 24 2017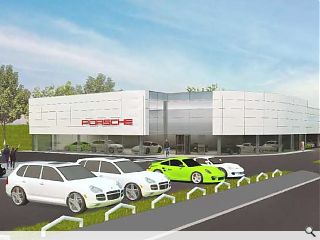 Yeoman McAllister Architects are in the driving seat for a new Porsche Centre to be built at Broxden Business park, Perth, on behalf of Peter Vardy.
Situated off the busy A9 the
£3.5m scheme will deliver 1,600sq/m of retail space
in a contemporary dealership.
In a statement the architects wrote: "The building has been designed to allow for varied heights within the elevation. This allows the impact of the building to be reduced by stepping the heights rather than presenting a single flat elevation. When viewed from the A9 the massing of the building is reduced due to this level change.
"The use of materials and signage combine to create a unique building form and design to reflect the Porsche brand."
Faced in silver rainscreen cladding the showroom will be Porsche's fourth in Scotland.
Back to May 2017