Glasgow School of Art showcase new School of Fine Art
April 14 2017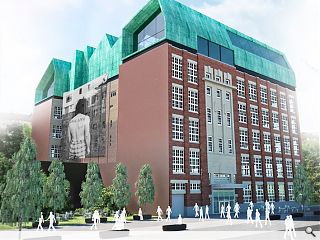 Glasgow School of Art have lifted the lid on an ambitious refresh of the
former Stow College
to create a new School of Fine Art.
Led by BDP the conversion will see a new roof built on top of the 1930's landmark to replace a later 1960s extension, enabling two new atria to flood the interior below with light.
As part of this work the ground floor will be given over to specialist workshops with four floors of studio spaces and academic offices above. Two rooftop levels meanwhile will be custom built for the study of painting and printmaking.
This copper clad eyrie is intended to reflect the industrial heritage of the trades people who cut their cloth in the building before moving on to careers in industry.
Scott Mackenzie, BDP Scotland chair and architect principal commented: "This project not only brings new life to a cherished Glasgow landmark, but also provides the School of Fine Art with inspirational and truly world class teaching and learning spaces."
The School of Fine Art is being project managed by Gardiner & Theobald and will open for the 2018/19 academic year.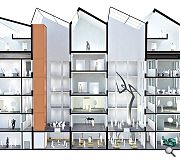 A double-height rooftop extension has allowed a mezzanine level to be inserted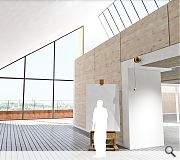 Top lit north-facing windows ensure copious provision of wall space
Back to April 2017