'Understated' flats to stand alongside B-listed Carmunnock hotel
April 13 2017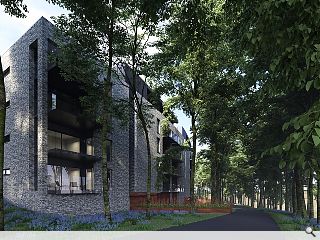 Plans have been put together by Cameron Webster Architects and Loader & Monteith for the creation of 38 flats within the grounds of the B-listed
Carnbooth House Hotel in Carmunnock
, Glasgow.
Ola Properties intend to extend the arts and crafts mansion through recreation of a lost courtyard via a new function suite and in order to help fund this ambition it is proposed to build new homes for private sale within the grounds.
Positioned so as to avoid adversely impacting the setting of the main hotel the flatted block is arranged over six storeys with a basement parking level partially embedded within the site topography.
A design statement observed: "The base will be formed in red sandstone - this provides an open screen to the car park behind. This red sandstone will extend to the close entrance door and projecting canopy - effectively forming a marker along the facade to demonstrate the location of arrival points.
"The majority of the facade will be formed in a high quality facing brick with a fair level of colour variance. A brindle-style facing brick is preferred to other material finishes because of the proximity of the building to trees and the consequential risk of discolouration and staining. "
Inset balconies meanwhile are finished in blackened timber while stairwells are articulated by vertical standing seam anthracite metal cladding.

Images by Ed Wright Visuals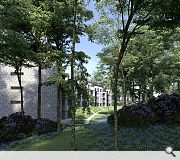 A new footpath may be introduced through the grounds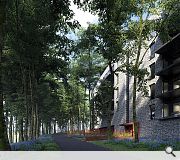 Windows will be formed from low maintenance aluminium clad timber composite units
Back to April 2017