Dunfermline Carnegie Library & Galleries gear up for public unveil
April 6 2017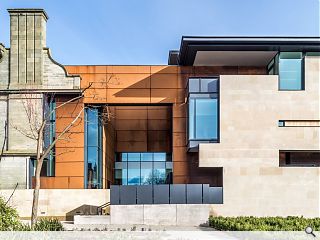 Richard Murphy Architects have marked practical completion of a 2,300sq/m extension to the world's first Carnegie Library as the star attraction of Dunfermline's Heritage Quarter, ahead of its public opening on 18 May.
The Dunfermline Carnegie Library & Galleries
includes a new museum, exhibition galleries, local studies centre, a large modern children's library and a mezzanine café set amidst a landscaped garden within the grounds of Dunfermline Abbey.
Blending three separate buildings; the 1833 Carnegie Library, retained façade of a Commerical Bank of Scotland building and new build extension, the project will tell the story of Dunfermline's history as an ancient capital.
Richard Murphy commented: "The building was a considerable challenge. We needed to fit onto a restricted site many different and unique facilities alongside and linked to the existing historic library and of course the new building is placed right in the epicentre of the conservation area in the centre of Dunfermline.
"Internally the new facilities are organised around a dramatic internal street and a journey upwards. The street orientates everyone and the journey progressively visits every new facility as well as eventually linking back in to rooms within the original library. Archive reading room, café, children's library, galleries and museum all have different but carefully designed views of the garden created alongside the new building as well as focussed views of the Abbey, Abbott's House and the wider historic town centre."
The Dunfermline Carnegie Library & Galleries is
amongst 27 buildings in the running for a RIAS/RIBA award
.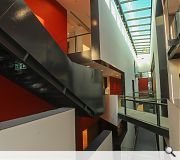 Heritage will be brought to life via film, interviews and computer games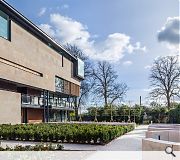 The heritage quarter includes Dunfermline Abbey Church, Dunfermline Abbey, Dunfermline Palace, Abbot House and Andrew Carnegie's Birthplace Museum
Back to April 2017