Aberdeen's Bon Accord centre in line for major overhaul
April 5 2017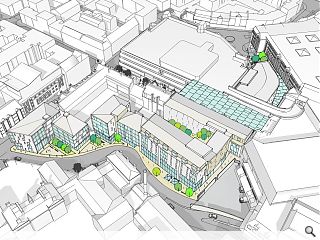 Planning permission in principle is being sought for an overhaul of
Aberdeen's Bon Accord Centre
with BMO Real Estate bolstering the city centre mall with a complementary hotel, flats and serviced apartments.
Mixed use proposals by Allan Murray Architects and CDA
aim to breathe new life into the centre by diversifying away from retail; including a new leisure and restaurant destination on land bounded by St Andrew Street, Crooked Lane and Berry Street to the north of the existing centre.
Illustrative designs show intent to relocate 41-43 Loch Street, subject to engineering and cost feasibility, to create a developable plot that can strengthen connections to John Lewis. Loch Street itself would then be tuned into a pedestrian priority public space with active frontages.
Proposals also envisage bridging George Street with a high-level flat glazed canopy. Outlining this latter vision the architects said: "The intention of this idea is to bring the entrance of the Bon Accord northwards into the street to create a tempered street level connection to John Lewis, and a fitting and grand urban room, terminating the end of George Street."
Low quality buildings will be swept away to offer further development opportunities; including a low-rise Co-op store on George Street West which could make way for a six-storey mixed use block.
Detailed designs are still to be drawn up in light of subsequent discussions.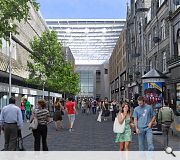 George Street could be terminated by a 'grand urban room'
Back to April 2017