£10m Torry dolphin centre to sink or swim
March 20 2017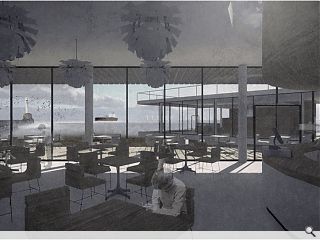 Gokay Deveci, professor in architecture at the Scott Sutherland School, has released the first indicative visual of a proposed dolphin centre at Greyhope Bay, close to Torry, incorporating a viewing platform, classrooms, a theatre, restaurant and conference rooms.
Brainchild of marine scientist Fiona McIntyre the vision forms part of a build-up to a 12 May launch event, including a 3d tour, in a bid to drum up support for the £10m venture from the local authority, business and wildlife organisations.
McIntyre commented: "I developed Greyhope Bay as a project in a bid to provide a facility which would spark interest and inspire others to connect with and value Aberdeen's marine setting, its natural heritage and culture.
"Our plans have gained traction and support, with significant finance raised, architectural designs drawn up, business case validation, and Greyhope Bay is at a really important stage."
Greyhope Bay is among the best locations in Europe from which to observe bottlenose dolpins.
Back to March 2017