Mike Galloway defends urban design approach taken at Dundee Waterfont
March 20 2017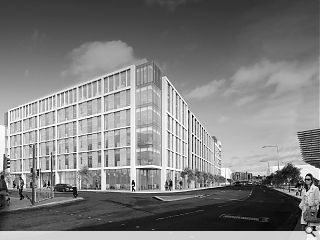 Mike Galloway, director for city development at Dundee City Council, has stepped in following a poor critical reception to the
latest elements of the city's waterfront masterplan
by defending the urban design approach taken.
Stressing that not every element of the plan can be of the standard of the V&A or railway station, Galloway instead stresses the importance of 'building widths, heights and proportions, the ratios between windows and walls on their main elevations and the use of materials and the creative use of colour' to foster a sense of place, particularly in the use of active ground floors and pedestrian permeability.
Writing for The Courier
Galloway wrote: "Not every building in a successful place can try to grab the maximum attention; otherwise the area will become a cacophony of 'show off' architecture that will come across as jarring and confusing.
"The key to creating well-mannered background buildings in the waterfront is to shun any temptation to focus on issues of architectural style and instead look to the underlying design qualities of the surrounding historic environment. However, we should avoid attempting any historical pastiche as we will only end up with a false and shallow 'disneyfied' theme park; instead we need to distil and reinterpret the enduring qualities that make Dundee the place it is.
"Even if we achieve all of these qualities as we develop the waterfront sites, I am not naïve enough to think we will manage to please everyone. Design appreciation is still a very individual matter and depends greatly on personal taste and preference."
Plans brought forward by Cooper Cromar for a mixed-use development on the key plot were previously described as 'disappointing' in the context of recent efforts made by the city to bolster its design and creativity credentials.
Back to March 2017