16th century Edinburgh brought to life in digital reconstruction
March 17 2017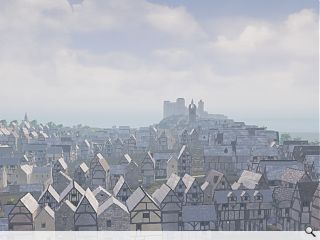 Researchers at the University of St Andrews have built a digital recreation of 16th century Edinburgh to help enhance understanding of the city's early history.
Based on the earliest accurate depiction of the city, a birds-eye plan drawn in 1544 by English military engineer Richard Lee prior to the city being sacked and burned by invading soldiers, the tool offers historians a useful interpretation of how the ancient capital might have once looked.
Devised by university offshoot Smart History the 3D virtual model combines archeological evidence and contemporary written accounts as well as present day geography to create as accurate a picture as is possible.
Historian Dr Bess Rhodes, remarked: "For the first time visitors and residents can compare the city they know with the capital of James V and Mary Queen of Scots. It has been amazing seeing the recreation of a lost townscape. I hope this project makes the public more aware of the layers in the capital's history, and furthers understanding of the complex way in which Edinburgh evolved."
The digital reconstruction will be made available as a mobile app, 3d virtual experience and website from 1 May.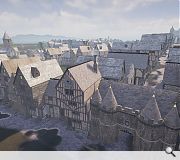 A view across the Netherbow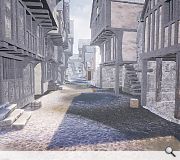 The reconstruction centres on the Royal Mile
Back to March 2017