Second time lucky for Royal High School hotel bid?
February 21 2017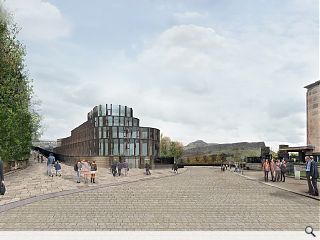 Hoskins Architects have brought forward
revised hotel proposals for Edinburgh's Old Royal High School
and an acknowledgement by the developers that their original vision,
rejected by planners in December 2015
, 'fell short'.
The renewed bid addresses concerns raised at the scale and massing of flanking wings of accommodation at the historic address with co-investors Duddingston House Properties, Urbanist Hotels and Oaktree Capital Management reiterating their support for the £70m venture.
In a statement Hoskins Architects wrote: "Following refusal of 2015 applications, the applicants instructed their design team to reassess all aspects of the proposals, focusing primarily on the visual impact of the development. The resulting revised scheme is presented by the applicant as a proposal that takes full cognizance of all concerns regarding the social, cultural, heritage and landscape impact of the development."
This revised scheme has a 15 per cent reduction in floor area, taking the total gross internal area down to 16,000sq/m with a dark brown pre-patinated copper specified for the facetted façade, inspired by the local geology.
Elsewhere it is proposed to lower the cills of three windows to the rear of Ham ilton's assembly hall to allow improved access with the doorways sheathed in matching copper.
A rival vision by Richard Murphy Architects to turn the Thomas Hamilton designed property into a
Music School
has been approved but cannot proceed until 2022, when an agreement between the Council and the hotel developers expires.
Alterations carried out to the structure in the 1970s will be reversed
Both wings of bedroom accommodation have been reduced in scale to avoid 'crowding' Hamilton's masterpiece
Back to February 2017