Bare bones office shell transformed into quirky travel HQ
February 21 2017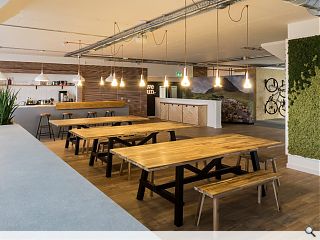 A Spartan office shell at Glasgow's Skypark has been transformed into modern office accommodation more befitting of its tenants, holiday firm Macs Adventure.
Overseen by Julia Grant Interiors and Ormond Design the contemporary industrial design took four months to bring to fruition and includes upholstered 'meeting coves', moss wall, herb garden and wall-mounted bike hangars.
These elements aim to inspire staff with a fun and innovative working environment that is reflective of the type of holidays organized by the travel firm, a point emphasized by motivational quotes such as 'Fill Your Life With Adventures Not Things' which litter the space.
Jennie Ormond said of the work: "This is an office for people who don't want to be in an office – for outdoor types who are usually out kite surfing, hiking or travelling.
"We've designed a one-of-a-kind workspace which is in the 21st century, relaxed style of the Dropbox and Google workplaces and that's unusual in the Glasgow area."
The refurbishment works were carried out by SJS Property.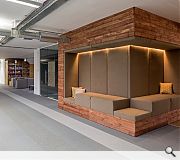 A moss wall entrance feature takes the form of a countryside map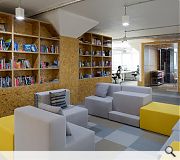 Timber furniture, exposed ductwork and hanging rattan chairs complete the look
Back to February 2017