Disused Edinburgh quarry to become surfer's paradise
February 21 2017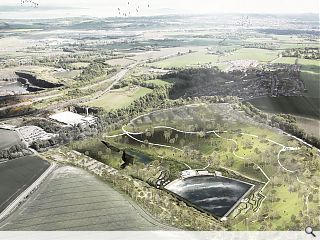 A disused quarry in rural west Edinburgh could become an unlikely surfer's paradise with the launch of a series of public consultations to establish an international surfing and leisure facility opposite the International Climbing Centre in Ratho.
Tartan Leisure will consult ahead of an expected planning application by HarrisonStevens in late spring to fill Craigpark Quarry with an artificial lake replete with its own wave machine, cementing Ratho as an outdoor adventure destination.
Developed by Spanish firm Wavegarden the technology can generate consistent swells at the push of a button, to meeting the needs of everyone from Olympic athletes through to complete beginners. Wavegarden Scotland will also include holiday lodges, a cafe and shop all set within landscaped parkland for those less keen on getting wet.
Andy Hadden, co-founder of Tartan Leisure said: "Wavegarden Scotland is a thrilling new concept in the adventure leisure industry. If approved, it could position Scotland as a leading surfing destination as the country already has some world-class natural breaks."
Anyone interested in participating in the consultations is invited to attend the Patey Suite at Edinburgh International Climbing Arena between 15:30 and 19:30 on 22 February or Ratho Library in 27 February between 14:30 and 19:30.
Back to February 2017