Royal College of Physicians to improve circulation at Edinburgh HQ
February 21 2017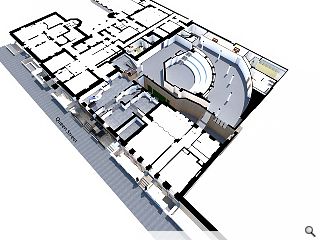 The Royal College of Physicians of Edinburgh have tabled plans for a series of circulation improvements to their historic
Queen Street headquarters
, including the installation of a new lift access, entrance space and a refurbishment of an existing conference centre.
LDN Architects have been brought on board to realise this ambition, which will bring the historic body into compliance with 21st century accessibility standards and a more welcoming environment for staff and visitors.
This necessitated a rationalization of the current premises, which straddles several adjoining A-listed buildings, into one cohesive whole internally while retaining as many period details as possible.
In their design statement the architects noted: "Any alterations to the existing buildings, all A-listed and among some of the most relevant on Queen Street, have to be carefully considered due to their heritage value. However nos. 11 and 13 have already been altered significantly since their construction in the early 19th century to adapt their interiors to the changing needs of each period. The proposed changes would thus ensure that all rooms remain examples of living historic spaces that allow contemporary requirements to be fulfilled.
"Creating a new lift enclosure connecting the space at the back of no. 11 and the existing Lecture Theatre is the main addition to the RCPE's array of buildings. This new internal space would be well lit and feature a lift connecting all different internal levels within the Centre, including the Great Hall."
Quantity surveyor Thomson Grey; structural Engineer David Narro Associates; mechanical and services engineer; consulting engineer Irons Foulner and CDM coordinator Thomson Grey round off the design team.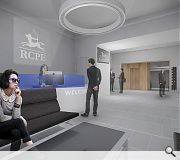 A rabbit warren of connecting rooms will be rationalised for the venture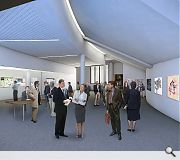 External alterations will be restricted to the installation of a platform lift
Back to February 2017