CDA and Hoskins mark South St Andrew Square completion
February 3 2017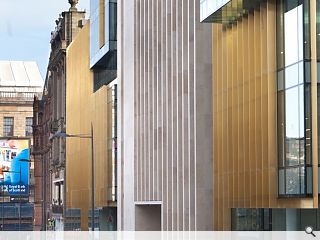 Comprehensive Design Architects and Hoskins Architects have marked official completion of their joint mixed use project fronting St Andrew Square, Edinburgh, the latest addition to the New Town world heritage site.
South St Andrew Square
has been brought to market by Standard Life Investments and Peveril Securities to offer 100,000sq/ft of grade A office space, 70,000sq/ft of leisure/retail and a suite of apartments. It is the culmination of a decade's work to fill a sensitive plot opened up by the controversial demolition of the Scottish Provident building.
The design team studied historic feus to the south of the square to strike a contextual balance between projections and recesses, with a façade of metal and stone fins specified to create as open an appearance as possible when viewed head-on. This strategy also serves to maximise daylight while taking on the character of a solid masonry façade in oblique views.
Welcoming the project's completion Nick Domminney, director of Hoskins Architects, said that it '… reinstates a vital part in the composition of South St Andrew Square and enriches its connections to Princes Street, the Gardens and the Old Town beyond."
Domminney continued: "Creating a piece of architecture which works at the scale of the pavement, the street, the square and the city, whilst delivering on the exacting demands of retail and office development, has been a fascinating and daunting task."
Offices and leisure units are currently being fitted out and are expected to be occupied by mid-2017.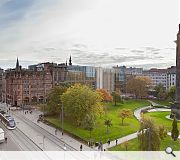 The facade adopts a shifting character of solid and void dependant upon the viewing angle
Back to February 2017