New Town office block marketed as 'significant' development opportunity
January 31 2017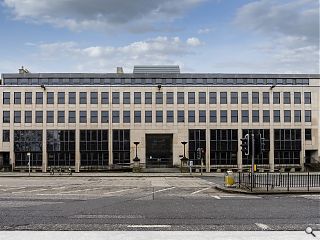 Edinburgh's Erskine House is being marketed for potential office, residential or hotel use by DougraySmith as a buyer is sought for the H-plan structure occupying 0.23 hectares of land in the New Town.
Stretching to 117,000sq/ft the Queen Street property is being touted as a rare chance to acquire a significant development plot in the World Heritage district, potentially offering a solution to soaring demand for city centre office stock.
Chris Dougray, director at DougraySmith, commented: "This is a significant development opportunity in what is the most vibrant part of our capital city. With hotel occupancy rate in excess of 86.3% and a well-documented lack of quality office space, this is a prime development opportunity for developers in Scotland and around the world."
A
2015 proposal by Dexter Moren Associates
called for the 1960's office block to be converted into a 187 bed apart-hotel.
Back to January 2017