Ambitious Ayr Riverside masterplan unveiled
|
Send to friend
November 22 2016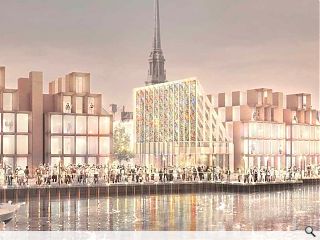 Ayr Renaissance, a body formed by South Ayrshire Council to lead the regeneration of Ayr town centre has submitted an ambitious waterfront masterplan.
The Riverside Block has been devised by Niall McLaughlin Architects to sit between the medieval 'Auld Brig' and Victorian 'New Bridge', removing a number of large retail sheds which block access to the river with a new area of public realm and a festival building.
The masterplan makes provision for a range of uses including office space, retail, cafes, restaurants and open space using quality materials, which marry with historic buildings – including new vistas of the town hall from new vennels.
Chairman of Ayr Renaissance, James Knox, said, "The balance of the development depends on the added value created by the quality of the architecture, the welcome to the public afforded by the originality and openness of the plan and the content of the public realm. Getting these right is the key to unlocking long-term regeneration of the town centre for generations to come."
Over the longer term it is hoped to extend the River Ayr walk to the sea with the intention of creating a new events space flanked by the town's two main bridges.
A planning application is expected early next year which, if approved, will enable demolition works to commence alongside an archaeological dig.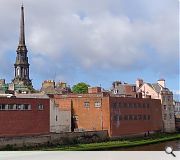 The present condition of the site leaves much to be desired
Back to November 2016