Cairngorms National Park Authority names regions best designs
|
Send to friend
November 22 2016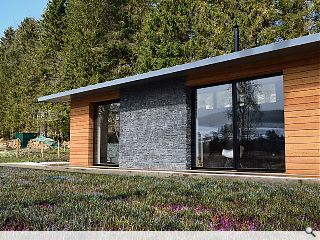 The Cairngorms National Park Authority have moved to recognise the best design within the park area, designating a private home at Newe, Strathdon, with their top honour.
Strathdon House by Brown + Brown Architects
was praised for its 'compelling, simple design' which saw it recognized as best residential new build, just edging out Tigh an Uillt in Nethybridge, an extension to an existing property.
Other winners on the night were HRI's
Russwood offices at Newtonmore
which claimed top honours in the commercial category and Corndavon Bridge in Deeside which picked up the infrastructure prize.
Rounding off the winners was Am Fasgadh at the Highland Folk Museum, also in Newtonmore, which was recognized for its place-making qualities.
Judge Andrew Wright said: "Arriving at decisions as to which of the projects merited awards was challenging, and at the end of the exercise we were left with the firm impression that design standards were rising within the boundaries of the National Park and that the awards scheme had been successful in promoting the value of good design – not only to those who benefited from it directly, but to the wider community."
The award has previously been held by
Neil Sutherland Architects Cairngorm Brewery, Aviemore; 7N Architects New House at Easter Tombain and the Lazy Duck Woodman's Hut, built by Rob Clarke and Dave Robson
.
Back to November 2016