Clydeside hotel outgrows its home within months
November 23 2016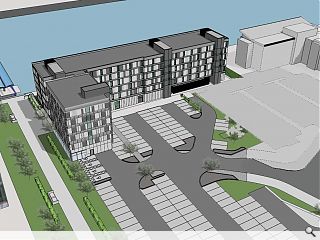 LMA Architects are to extend a Premier Inn hotel at Pacific Quay, Glasgow, just
18 months after the original hotel opened its doors
.
A
five-storey addition
is proposed to be built over a car park allowing owner Whitbread to offer an extra 59 bedrooms on top of the 180 currently offered in addition to a refurbishment of the bar and restaurant.
LMA state that they wish to make a 'positive contribution to the riverside frontage', adding: "The proposal aims to redefine the scale and character of the original 180-bedroom hotel with an extension that would turn the existing linear block design into an L-shape building and emphasize the pedestrian's corridor to the promenade along the Clyde and Bell's Bridge as well as reflecting the design of the urban block to the existing."
The new wing will match the materials and scale of the current hotel to which it will connect via a corridor link with its own stair core offering internal circulation.
Back to November 2016