Restoration of B-listed former Tradeston warehouse
|
Send to friend
October 5 2016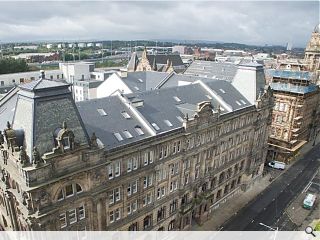 Restoration work has now completed at a B-listed warehouse in Tradeston, used as apartments since 1999, following a programme of essential repairs carried out on behalf of the owners, Speirs Gumley and Glasgow City Council.
The £1.1m project saw the roof completely replaced together with improvements to an underground car park and stairwells and a refurbishment of the façade.
Speirs Gumley owner Lorraine MacDonald said: "In my entire property management career I've never seen anything like the dedication and determination of the Owner Focus Group to raise the money needed to save their beautiful building from deterioration. My team at Speirs Gumley have also gone well above and beyond the call of duty to make this happen, and the chartered building surveyors, Wiseman Associates Limited and contractors GDN Contracts have also done a wonderful job."
Designed in 1919 by James Ferrigan and completed in 1933 the warehouse sits next to the imposing Co-operative house next to the Kingston Bridge which is now adorned with a
replica Light and Life statue
.
Back to October 2016