Boroughmuir High School overhaul finalised
October 5 2016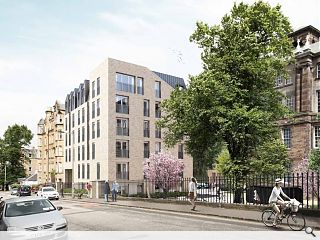 CALA Homes and Michael Laird Architects have teamed up for a
residential conversion of the B listed Boroughmuir High School
, Edinburgh, together with construction of a new build apartment block offering a mix of private and affordable housing.
This will see 115 homes built within the schoolhouse and surrounding grounds as well as landscaped gardens which will take the place of a separate gym and assembly hall which are earmarked for demolition.
In addition a new build block is planned for the south west corner of the site which will extend the tenement line.
Explaining this element of the design
the architects said: "A dormered upper storey will correspond to the neighbouring tenement.
"The façade of the end section of the block extends an extra storey and replaces the dormer storey with a 'book end' volume. This serves to end the tenement line and reflect the vertical direction of the schoolhouse towers."
Structural interventions will be kept to a minimum within the school itself by inserting a single two bedroom apartment within each classroom bay, with a mezzanine level inserted to take advantage of generous floor to ceiling heights.
Rear courtyards will be activated by a series of elevated walkways designed to both interconnect all parts of the building and ensure that rear facades become active.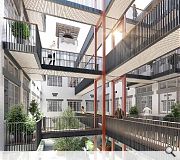 A succession of elevated walkways will snake across rear courtyards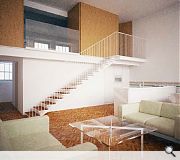 Residents in the schoolhouse proper will benefit from a double height volume
Back to October 2016