Artists drawn to £1.4m Cove Park residence
|
Send to friend
September 15 2016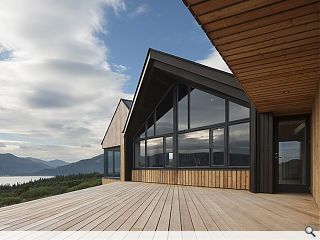 Artists drawn from around the world have begun descending on a purpose built residence at Cove Park on the Roseneath Peninsula, to take inspiration from the dramatic landscapes.
Designed by Cameron Webster Architects and Haa design The Jacobs Building will open year round to individual artists and groups seeking to expand their creative horizons on the Cowal Peninsula, with two additional bedroom pods increasing residency numbers from 10 to 12.
Founded in 2000 by Peter and Eileen Jacobs Cove Park had laboured to fulfil its founding vision within a converted tea room and modular huts originally built for the Castaway TV show before pressing ahead with the £1.4m capital project, funded by Creative Scotland and others.
This has seen the team move into a larch clad, double height space offering expansive views through full height windows as well as meeting rooms, kitchen, library and crafting space - alongside installation of two new bedroom pods.
In a statement architect Stuart Cameron said: "The new building is primarily timber kit, and lightweight timber roof trusses for a sustainable approach to construction. The larch cladding is locally sourced and the stone is the waste product from the Burlington Quarry. Rockwool insulation is formed from a renewable natural resource and recycled material, chosen for its positive energy balance through its lifetime.
"The new centre was designed with the future in mind, with an adaptable layout and a large loft space to expand into."
Photography by Ruth Clark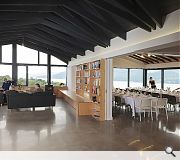 An elevated setting affords spectacular landscape views
Back to September 2016