Dundee office block up for hotel conversion
|
Send to friend
September 15 2016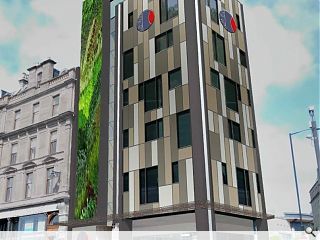 A redundant 1970s Dundee office block is in line for conversion to a hotel/ serviced holiday apartments and rooftop restaurant extension with submission of formal plans by Assurance Developments.
RDA Architects propose to replace the current façade at
5 Whitehall Crescent
with a new aluminium cassette cladding system with a feature artificial living wall planted on the current stairwell as part of the change of use.
In a planning statement the architects wrote: "The applicant is looking to modernise the building to give it a new exciting and contemporary look, whilst ensuring that it is respectful to its surroundings.
"Given the prominence of this building to the waterfront redevelopment, the proposal is to create a new architectural statement.
"The (cassette cladding) system consists of a medley of vertical elements to reflect not only contemporary architecture but also the vertical elements of the surrounding buildings. The colour palette for the cladding will be formed of colours that are sympathetic to the surroundings.
"The proposed windows will be setback from the cladding to respect the window reveals in the surrounding buildings. To break up the façade & reflect contemporary architectural design the windows will also consist of differing heights, creating a feature complimentary to the medley of cassettes. The existing brick tile columns will be over clad."
A sixth floor restaurant will have floor to ceiling glazing with views across the River Tay, City Square and Caird Hall.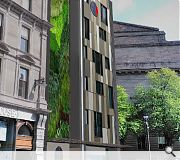 A 'medley' of cladding panels will replace existing glazing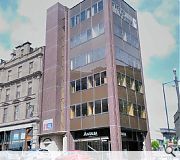 A feature living wall will rise the full height of the stair tower
Back to September 2016