100 bed student housing scheme lands in Aberdeen
|
Send to friend
September 1 2016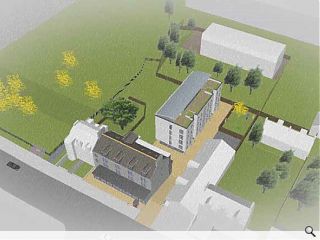 The latest student housing proposal to hit Aberdeen comes courtesy of CAG Architects and West Coast Estates who have drawn up plans to infill a prominent
gap site at 500 King Street with up to 100 beds
.
This will see a granite and slate building fronting the street with a contemporary retail canopy with a separate five storey mews property behind, all of which will be set within landscaped, pedestrian friendly grounds.
In their design statement the architects observed: "Viewed from King Street, the mass of the mews building is diminished as it sits a full storey lower than the street, with only its gable addressing the entrance. The longer face of the building will be oblique to the street and catch the sun across the full day. At ground level a skirt of glass surrounds the living and kitchen spaces of the accommodation, giving life and visual impact to the mews while providing passive surveillance to the wider site.
The upper floor of the building is sculpted into a curved metal roof which not only visually reduces the building profile but provides the opportunity for a green deck at the upper level."
Horner + Maclennan landscape architects have been brought on board to provide new public realm composed of Caithness paving, granite setts and gardens.
Back to September 2016