Prince & Princess of Wales Hospice to move on-site
September 1 2016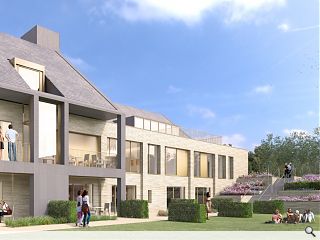 Work to deliver the new
Prince & Princess of Wales Hospice
within Glasgow's Bellahouston Park is to get underway shortly amidst high hopes that the facility will revolutionise palliative care across the city and beyond.
Built to offer patients the most advanced techniques in hospice, palliative and end of life care the facility employs the Sengetun model of care which places the needs of patients and their families first. This approach emphasises aesthetics and privacy in design to instill a positive impact on patient wellbeing.
Alastair Forbes, architectural director with Ryder Architecture, said: "It was important for me to spend some time in an in-patient bed to understand what patient really experiences. To capture that moment, I took a photograph of what the view beyond the bed is. If we were to only draw a plan of that room, it's would be all the important things that you couldn't represent: how much the ceiling is in view, how much a patient doesn't see out of the window, the smells, the noises, the proximity to other patients and staff.
"That has been a real touchstone throughout the whole process. It's all about going back to that photo and constantly asking how we give a patient choice. We make buildings for people, everything is about people."
Work on-site is expected to commence on 12 September with the first patients moving in by 2018.
Back to September 2016