Hearts make a stand with Tynecastle stadium overhaul
August 11 2016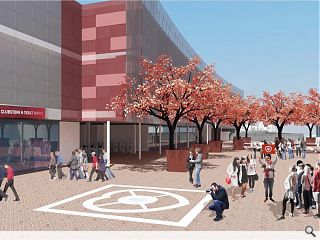 Hearts football club have
submitted a formal application
to redevelop their historic
main stand at Tynecastle
, Edinburgh, upping capacity from 17,529 to 20,099.
Designed by James Clydesdale & Associates the work will see the 1919 structure stripped back to the supports, allowing insertion of a modern stand more inkeeping with three existing new stands, employing rounded eaves and a girder truss on corner towers.
Existing ground floor facilities will all remain intact after the works pending a subsequent refurbishment programme.
The architects observed: "The girder truss is hardly visible from the outside and acts almost as a proscenium arch over the stage that is the playing surface. The geometry of the steelwork means the new truss will faithfully reflect the truss on the Wheatfield stand."
The new stand will play host to its first match during the 2017-18 season with work expected to begin next year.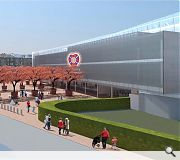 A new entrance plaza will be laid at the entrance to the ground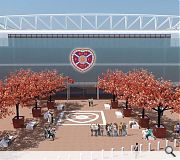 The new stand will uo capacity and bring symmetry to the ground
Back to August 2016