Calton Hill music school vision chimes with Edinburgh City Council
August 12 2016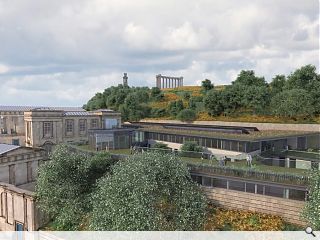 Edinburgh City Council has lent its backing to
Richard Murphy Architects vision for the former Royal High School on Calton Hill
after throwing out a bid by
Hoskins Architects to turn the landmark into a hotel
.
Instead the building will serve as a new home for St Mary's Music School after planners voted to endorse for a more discreet intervention within the sensitive location.
This will see the former teaching space transformed into a public performance and concert venue alongside premises for an expanded music school, each of which will be reached by its own entrance.
As part of this work Thomas Hamilton's masterpiece will be repurposed as a performance space together with offices, a dining hall and limited number of classrooms.
Separately, a new low-level 'ground hugging' building will be situated on a an existing plinth and extending to the boundary of Hamilton's retaining wall - necessitating the demolition of several later additions to the High School.
Despite approval construction could be delayed until 2022 when an agreement between the council and developer Duddingston House (which is currently appealing against its planning rejection) expires.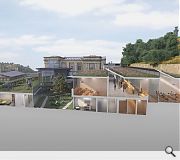 Much of the new music school will be housed in a low slung plinth pavilion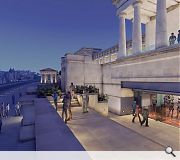 Public elements of the scheme will be given a separate entrance distinct from the school
Back to August 2016