Prominent Glasgow clock tower restored
|
Send to friend
July 4 2016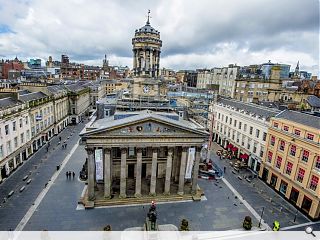 Austin-Smith:Lord have completed a clean, restoration and reinstatement of a 189 year old clock tower at Glasgow's Gallery of Modern Art, Queen Street, on behalf of Glasgow Life and Historic Environment Scotland.
A comprehensive conservation plan saw layers of cream paint, weeds and cement repairs stripped off to reveal the fine Corinthinan columns buried beneath.
City Building Group and CBC Stone carried out the work which included redecorating the clock face, as well as undoing 'serious errors' in the original construction which included re-bedding incorrectly placed stones.
David Millar, director and head of conservation at Austin-Smith:Lord, added: "This has been a very interesting and challenging project, assessing solutions and actions that would both enhance the visual aesthetic of this landmark, but also ensure an improved lifespan of the masonry structure into the future.
"There is always a level of risk associated with removing paint from sandstone but it's an exciting activity as you don't know what you might find! We discovered masonry wrongly bedded and sandstone heavily carbonated and although some individuals might like to see these dark deposits removed, it's not good practice as you are potentially removing too much original historic and listed fabric."
The Royal Exchange Square property was originally built as a townhouse for tobacco merchant William Cunningame of Lainshaw in 1778 before being enlarged in 1817 to form a bank when the Queen Street frontage, cupola and clock tower were added.
Back to July 2016