Consultations close for rare new build west end home
|
Send to friend
July 4 2016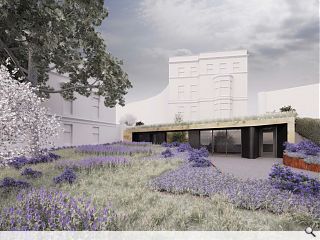 Anyone interested in passing comment on a new build home in the heart of Glasgow's west end, have just
one day left to register their views before a public consultation period concludes
.
Drawn up by Cameronwebster and LCD Architecture the low slung property squeezes two floors into a sunken plot below a wild flower roof to avoid intrusion on the Glasgow West conservation area.
The family home is planned for a corner garden on the junction of Belmont Street and Doune Gardens and comes with a fraught planning history with numerous bids to develop the plot falling foul of planners.
In an effort to alleviate concerns the design team will seek to preserve the site as a 'green gateway', reinstating a stone boundary wall and railings in the process, together with retention of two mature trees.
In their design statement the practices said: "The scheme as presented has emerged from a comprehensive analysis and an understanding of the historical development of the site and the west end of Glasgow. The form of the house is clearly innovative in its proposed form, however, as a consequence of the design approach we have taken, we believe it represents an appropriate and sensitive addition to the site and it's context.
"The proposed house does not seek to sit alongside the two listed buildings and compete with them; it's design is completely deferential to their form and the established pattern of local development. The design of the sloping green roof, and the reinstatement of the site boundary to a historical condition seeks to ensure the green edge is preserved and their setting enhanced."
Faced in large panel blonde ashlar sandstone with areas recessed from the street formed in black painted timber cladding boards.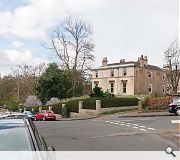 A boundary wall and railings will be reinstated as part of the wprk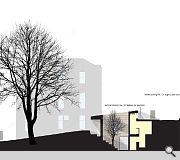 Summer and winter shading implications for a neighbouring lane have been considered
Back to July 2016