Paisley chemical plant flattened for 500 homes
|
Send to friend
July 4 2016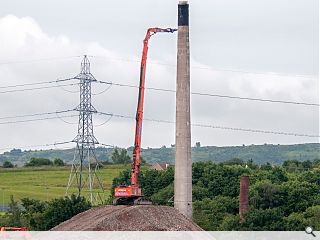 Central Demolition have taken down a prominent cooling tower at the former BASF chemical works on Hawkhead Road, Paisley, as part of site clearance for 500 homes.
The 63 acre site has been purchased by Miller Developments and Craigrossie Properties who have
filed an application in principle to develop the land in the coming years to a master plan prepared by EMA Architecture + Design
.
This calls for creation of a new neighbourhood which will repair the urban edge to Hawkhead Road with a range of terraced and semi-detached house types and a landscaping strategy which seeks to improve interplay with the White Cart Water.
In a design statement EMA observed: "The layout has been developed in accordance with Designing Streets and Creating Places, with a street structure and hierarchy which has been developed alongside the landscape strategy.
"The primary routes into and through the site will be defined by avenue planting and positive boundary treatments such as walls and hedges. From these primary routes, there is access to the secondary streets, lanes and courtyards, and onto the green open
space along the White Cart Water.
"Junctions along these avenues will feature green nodes and pockets of slightly higher density terraced, creating a positive urban edge of appropriate scale and massing."
Back to July 2016