Savoy Centre facelift on the cards
April 8 2016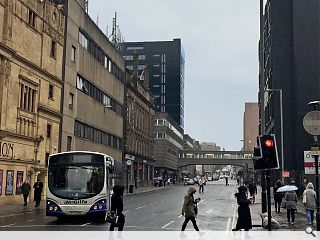 Seymour Holdings, owner of Glasgow's Savoy Centre, have drawn up plans to have the high-rise component of the sixties podium and tower stained black as part of efforts to attract tenants to the vacant office complex.
This will include the installation of new windows and an external plant screen to obscure updated mechanical services with interior spaces refitted by C2 Concepts to offer a 'funky and modern environment' for occupants.
In their design statement CDA Architects said: "There are a number of recent developments within Glasgow City's skyline that have been clad in a dark material which also have a positive visual impact upon the city centre.
"The facade improvements to protect and stain the concrete of the Savoy Centre's tower building will dramatically improve the overall appearance of this damp forgotten concrete building while sitting comfortably within the context of the city centre."
A separate strategy is being devised for the podium element, currently used as a market hall, including façade treatments and internal configuration.
In 2009 previous owners PBN Property applied to reclad the tower as part of an ambitious skyscraper-led redevelopment of the block.
Interior spaces will also be given a polish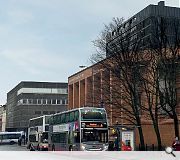 The tower is intended to blend in with Citizen M and 2 West regent Street
Back to April 2016