Redundant pub on Glasgow's south side to make way for flats
April 8 2016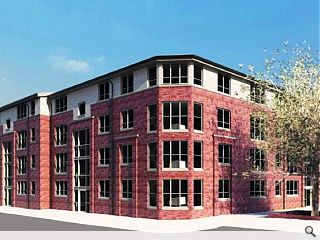 Developer Scotia House and CRGP architects have tabled plans to build
24 flats in a second phase of development off Glasgow's Paisley Road West
.
Delivered on behalf of Southside Housing Association the project will take the place of The Red Lion Pub and take the form of a four storey block of flats.
In their design statement the architects noted: "The glazed curtain wall screens to the Common Close entrances are framed with facing brick piers and expressed coloured pc cornices to match the phase 1 development. Further expressed bays are also found either side of the corner bay.
"The roof pitch has been kept as low as possible to minimise the massing of the development and to give the appearance from street level of a continuous eaves level cornice around the building perimeter."
Two access closes will lead to a landscaped amenity courtyard behind.
Back to April 2016