Partickhill Bowling Club development advances
April 7 2016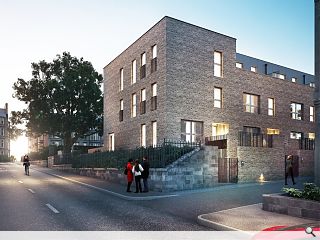 Noah and contractor CCG have moved on-site with a development of six townhouses
Partickhill Bowling Club
to designs by Hoskins Architects.
Hillside Gardens Lane will see the existing arts and crafts style clubhouse restored alongside the creation of new landscaped gardens and a three storey accommodation block.
Aligned along a mews lane the brick finished infill is kept intentionally simple with a repeating fenestration of vertical window bays echoing nearby tenements. A set back upper floor will reduce apparent mass and permit light to neighbours.
Situated in the West End conservation area the homes will benefit from southerly aspects as well as views over the bowling green and on-site parking.
Hillside Gardens Lane will offer high specification family accommodation
Back to April 2016