£150m 'Blackdog 'town centre' master plan lodged
|
Send to friend
March 25 2016
Ashfield Land and Kirkwood Homes have lodged plans to build a £150m 'town centre' for the tiny hamlet of Blackdog, two miles north of Aberdeen's city limits, on a site allocated for future development in the 2012 Aberdeenshire Local Development Plan.
Serving as a gateway development for the '
Energetica corridor
' project, a 30 mile long strip of development stretching out to Peterhead, the development will include 600 homes, offices, industrial units, supermarket, hotel and cinema.
Subject to approval by Aberdeenshire Council the scheme could get underway by 2017.
Commenting on the development Steven McGarva of Ashfield Land said: "Its prime gateway location takes advantage of the new
Aberdeen Western Peripheral Route
and will help to consolidate Aberdeenshire as one of the world's major energy centres, complementing the Energetica Corridor strategy, while ensuring that key areas of diversification in food and drink, tourism and life science are also considered and catered for."
A retail and leisure hub, with supporting business and industrial use, has been designed by Threesixty Architecture for Ashfield Land to the north whilst a residential section to the south has been designed by Optimised Environments (OPEN) and William Lippe Architects for Kirkwood Homes.
Optimised Environments are also serving as landscape consultants for the entire master plan.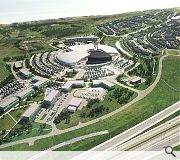 A planned food hall will showcase produce from the region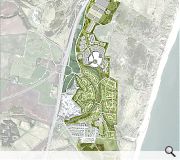 Of the 600 new homes 150 will be classed as affordable
Back to March 2016