Future secured for St Peter's Seminary following £4.2m grant
March 25 2016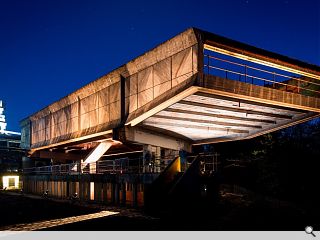 The future of Gillespie Kidd & Coia's modernist masterpiece
St Peter's Seminary
has been secured following the award of a £4.2m grant by the Heritage Lottery Fund and Creative Scotland.
This will enable NVA to press ahead with an ambitious plan to transform the crumbling structure, purpose built as a college for students of theology, into an arts and heritage destination.
Currently the scene for an ambitious public art event, Hinterland, the site will be sensitively restored and consolidated to provide a venue for events, performances and other activities.
John Allan, of Avanti Architects, said: "At last, after ten years of engagement with the monumental challenges presented by St Peter's, we can move from words to deeds.
"The Hinterland event is already revealing the power and poetry of this extraordinary place to an international audience. Now we can embark on the task of making St Peter's a permanent and inspirational venue for creativity, learning and debate. It will surely be the outstanding heritage rescue project of our time."
Brian McGinlay, Consultant with NORD Architecture, added: "The development project over the past two years in particular has been faced with many obstacles and challenging hurdles on the way but has always been highly rewarding.
"To the building, the recent environmental cleaning & vault stabilisation works has realised the projects initial milestone. Truly fascinating and technically innovative in its process we have worked closely and carefully to uncover this 'almost lost' modernist & international architectural masterpiece making once again safe & accessible for all to experience this incredible crafted & sculpted structure."
To enable this a triple-height chapel will be turned into a 600 capacity venue and a former crypt below will be harnessed as an atmospheric exhibition space.
Beyond the brutalist landmark the 104 acre estate within which it sits will also be revamped by ERZ, with paths reinstated, bridges restored and a Victorian walled garden brought back into use.
Photography by Alan McAteer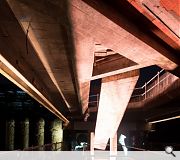 Seven thousand people have travelled to Cardross to see NVA's amalgam of sound, light and performance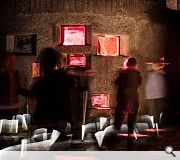 The Kilmahew / St Peter's project has been developed over the past eight years under the direction of NVA
Back to March 2016