Glasgow landmark's crowning glory to stand tall once more
|
Send to friend
March 28 2016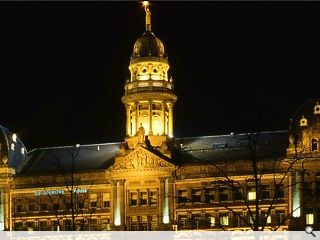 A neoclassical figurine is to stand tall once more atop former co-operative building in Glasgow, exactly 20 years after it was removed following the discovery structural defects in the gold leaf clad cast concrete statue.
'Light and Life' was created by sculptor James Alexander Ewing in 1897 to proudly top the highly ornamented façade of the former warehouse, since converted into apartments, but since 1996 all that has greeted motorists passing on the Kingston Bridge is a 5ft high steel stump.
Now in an effort to remedy matters Bill Ritchie, director at Atelier Ten, has launched a
crowd funding page in an effort to raise the £28,500
needed in order to erect a fibre glass copy being created by artist Kenny Mackay.
Ritchie commented: "Many individuals have generously offered their time and materials to get this project to this stage. Atelier Ten's in house lighting designers have created a concept to illuminate the statue, whilst our friend Angus at Cartwright Lighting Associates has provided the LED luminaires which will illuminate the statue from the base. Emtec have offered their time and materials to install the lighting whilst John Bethune at structural engineers Woolgar Hunter has created a solution to ensure that the statue has a steadfast home.
"We would like to reach out to our local community to help support the reintroduction of the statue and be part of the architectural footprint of our city. With the generosity of those mentioned above, the cost of the project is now reduced largely to materials including the steel and clay employed to create the mould, the resin skin and of course a 23 carat gold leaf covering."
The project team are now engaged in a frantic race to complete the statue before the removal of scaffolding next month upon completion of ongoing roof repairs.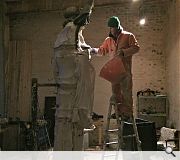 The replica statue will be given its own custom lighting scheme
Back to March 2016