BTE Architecture showcase Inveruglas Pyramid viewpoint
January 22 2016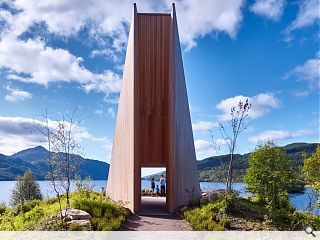 BTE Architecture has showcased a
£193k Pyramid viewpoint
on a peninsula overlooking Loch Lomond at Inveruglas, built as part of the Scottish government's Scenic Routes initiative.
Accessed by a series of paths from the A82 the timber viewpoint takes the form of a triangular platform, glimpsed as a 'narrow vertical stack' upon approach from inland, with the loch barely visible through a hollowed out passageway.
Only upon passage through this space does the scale of the structure become evident with a series of stepped platforms rising up and around to maximise views.
In a statement BTE observed: "Externally the viewpoint creates a distinctive point of attraction. With a strong visual impact it embraces the vast drama of the landscape which wants to be experienced in such an exposed location. The inviting gesture of the beacon attracts visitors from a distance, to explore an alternative view, a pause in their journey on this scenic seat.
Both walls and the horizontal steps and benches are finished with a vertical timber rain screen. Its bold appearance contrasts and complements the various greens of its natural surroundings and the usable inside of the structure invites the visitor to have a seat on a warm material, that wants to be touched."
Photography by Andrew Lee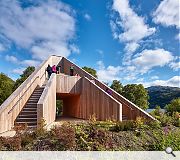 David Narro structural engineers assisted with the project alongside Land Engineering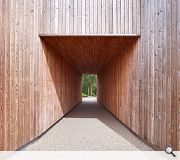 The structure was completed back in May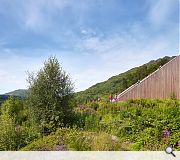 Visitors can alos arrive at the viewpoint by boat via a handy jetty
Back to January 2016