Murano Place 'missing tooth' unveiled by CAG
January 21 2016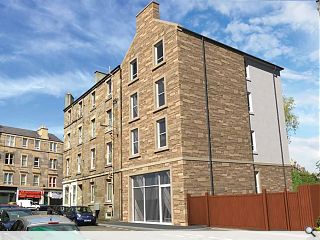 CAG Architects have drawn up plans for
three studio apartments for students and ground floor office space
on Edinburgh's Murano Place on the site of a former plumber's yard on behalf of Ziggurat.
Working to the scale and proportion of neighbouring tenements whilst acting as a 'terminus' to the street through a composition of chimney and gable end using reconstituted stone on cost grounds.
In their design statement the architects observed: "The proposal presented, is of a scale that works within the streetscape. It is traditional in form and uses an economic envelope that allows it to have the detail to fit into the street and wider city well. It terminates the traditional end of the Street and leads pedestrians through and past into the more contemporary elements behind.
"The proposal is a simple infill of the 'missing tooth' in the Murano Place and works hard to provide a fitting entrance to the current student scheme in Amphion Lane."
The project will also provide an access point to a further
532 beds of accommodation also provided by Ziggurat
.
Back to January 2016