3DReid helm Royal Highland Show pavilion rebuild
January 14 2016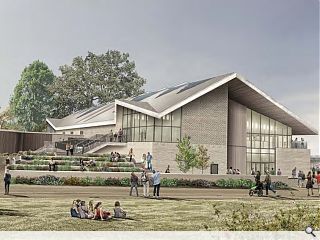 The Royal Highland & Agricultural Society has tabled proposals to level their current Sir Basil Spence designed member's pavilion in order to
erect a new facility on site
, doubling as a public functions suite when not in use.
Prepared by 3DReid Architects the scheme adopts a contemporary take on traditional forms, to maintain the setting of Ingliston House.
This sees a steep pitched aluminium roof oversail accommodation below, studded with profiled rooflights modeled on the diagonal frame of the existing MacRobert Pavilion.
The architects remarked: "The building massing respects that of the existing building and also respects its setting against Ingliston House. The proposed roof form has been developed to respond to various requirements such as providing shelter to the external balcony and entrances, identifying key access points and providing a suitable substrate for Photovoltaic panels.
"The building sits on the same line as the existing in terms of its relationship with the main ring to maximise views over the arena. However the new pavilion will have a longer / narrower proportion than the existing building which creates a more generous service yard area to the rear which allows it to be safely managed and separates service vehicles and operations from pedestrian routes."
The pavilion will be clad in vacuum treated Scottish Larch including a brick base course and projecting brick headers. Interiors will be faced with Siberian larch boarding.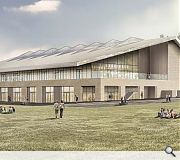 Interior spaces are conceived as extensions of the landscaping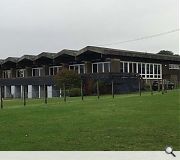 The MacRoberts Building wasn't suitable for renovation owing to problems with the structure and envelope as well as the presence of asbestos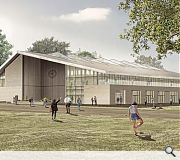 Timber will weather to an even silver-grey colour over time
Back to January 2016