High Street telephone boxes to be replaced by digital kiosks
January 14 2016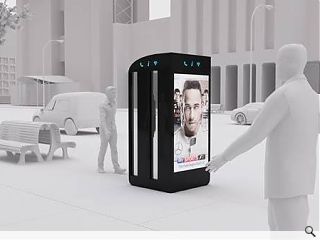 Britain's High Street's are to be given a new look after outdoor advertising firm Clear Channel revealed plans to remove redundant telephone boxes and replacing them with hi-tech kiosks with built-in digital screens displaying real time, context sensitive content.
The move follows the outdoor advertiser's purchase of Arquiva's payphone business with a nationwide roll-out commencing from July in central London in areas of high footfall.
Clear Channel CEO Justin Cochrane said. "Clear Channel is transforming both our business and UK Out of Home. We are building a next-generation estate based on a detailed understanding of advertisers, consumers, technology and cities.
"Not only will this deal deliver hundreds of world-class sites for advertisers it will provide fantastic services for the public while enhancing the urban environment right at the heart of London and other major cities."
Each kiosk will be equipped with voice and data capabilities as well as advertising Beacons to reach the smartphones of passers-by via Bluetooth, Wi-Fi, mobile data services and interactive journey planners.
Back to January 2016