Office to residential conversion trend continues in Glasgow
January 14 2016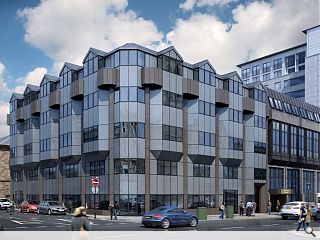 Glasgow's Bath Street is continuing the trend of office to residential conversions with proposals for the
remodelling of St Stephen's House
, which has lain vacant since mid-2014.
Designed by Young & Gault Architects on behalf of The Tannon Group the project will see 24 flats formed within the existing building envelope, with existing glazing replaced by a less reflective variety.
In their design statement the architects said: "Re-glazing of the existing curtain wall provides an opportunity to fine tune the existing design to address issues concerned with its interaction with the streetscape and the requirement to give the building a more residential character."
"We pro-pose to replace the glass with a less reflective product giving a greater degree of legibility to the building and allowing its three-dimensional form to be better appreciated from the surrounding streets."
The current offices were built in 1988 and include seven basement parking spaces.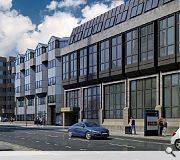 A secondary entrance off Holland Street will be formed to provide access to the south wing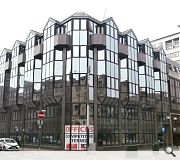 Existing office space has proven to be unlettable
Back to January 2016