Royal High School concert hall plan showcased
December 8 2015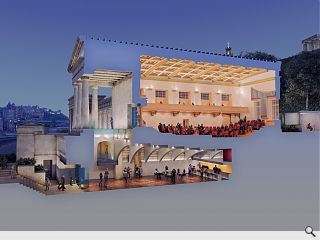 The Royal high School Preservation Trust has showcased plans for a 300 seat concert hall to be created within the Edinburgh's former Royal High School on Calton Hill, ahead of a formal planning submission later this week.
Backed by the philanthropic Dunard Fund the plans have been drawn up by Richard Murphy Architects with a view to creating a
new home for St Mary's Music School
.
In addition to the main hall the plans would also include the creation of three new public performance spaces and a contemporary foyer providing space for ticketing, bar and cloakrooms that will also double up as a multi-functional space.
A new public entrance, terraces and 'near invisible' new build elements are also envisaged.
Controversy surrounds development of the A-listed landmark, with Edinburgh City Council wedded to a
rival commercial plan for the building which would see it transformed into a hotel
.
William Gray Muir, chairman of The Royal High School Preservation Trust, said: "We fully recognise that the City of Edinburgh Council is not currently in a position to accept our offer due to its existing commitment to a commercial development. However, we have consulted widely and believe that our plans satisfy the need for conservation, public access, a culturally suitable and economically sustainable use. Therefore, if the commercial application were refused, the Trust is poised and ready to enter any new competitive process to acquire the building for St Mary's Music School. Such a process could be completed in a matter of months."
Planners have yet to decide whether to give the green light to the hotel scheme.
Back to December 2015